Warning Signs You May Have Impacted Wisdom Teeth
Usually appearing between the ages of 17 and 21, these are vestiges of human evolution that are now as useless as are our appendices. They are our wisdom teeth or third set of molars.
Many dentists suggest that they be removed to improve our overall dental health. Complications that can be brought about by these mainly unused remnants of our pre-history include:
Damage to other teeth, cysts, decay and even gum disease leading to a painful gum condition called pericoronitis. This is why it is so important to not ignore signs of impacted wisdom teeth (teeth that do not fully grow into the mouth because they are being blocked by other teeth.) Signs that you may have impacted wisdom teeth include:
Red or swollen gums
Tender or bleeding gums
Jaw pain
Swelling around the jaw
Bad breath
An unpleasant taste in your mouth
Difficulty opening your mouth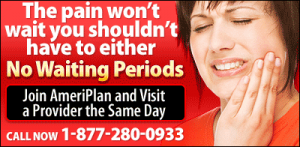 As you can see, it is never a good idea to ignore chronic dental problems. The best way to determine whether you have impacted wisdom teeth and whether they need to be removed is with regular x-rays from a qualified dentist.
He or she can quickly asses your overall dental health and whether problems have developed that need advanced treatment. Ameriplan Family Dental Health Plans can help you find a provider who can x-ray your teeth at a cost below that of patients who do not have a discount dental plan.
Ameriplan Providers are scattered all throughout the US and can be found through our easily searchable database. So, you see there really is no reason to put off insuring that your teeth remain healthy and you remain pain and problem free.
View Dental and health care plans here!